TOP STUDENT HANG-OUTS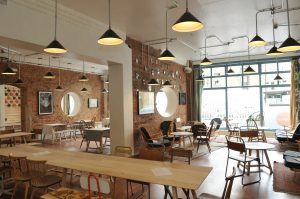 The Organisers have compiled a list of top London hangouts for students. With venues all over the city, there is something for everyone to keep you truly entertained!
NORTH
Shaka Zulu – Providing a totally unique clubbing and dinner experience, Shaka Zulu plays the best in Commercial House, RnB and Club Classic Anthems. Decorated with 20ft high warrior statues and a Mezzanine level champagne bar and a giant escalator whisking you between floors.
Simmons Camden – Enjoy a stylish cocktail in one of Camden's coolest venues. View the catalogue of quirky objects that decorate the walls whilst waiting for your cocktail of choice – which is served in a vintage tea-pot! Simmons is an effortlessly fashionable hang-out.
Egg London – Egg London is a stylish venue spread across three intimate floors. Similar to an Ibiza club it's the outdoor courtyard that really attracts students from all over London. Cool off, chill out and have a drink under the night sky. Watch the sun come up at Egg's Sunday morning breakfast session.
SOUTH
The CLF Art Café Peckham – The ordinary entrance to the CLF Art Café, also known as the Bussey Building, is home to a multi-floor arts venue hosting theatre, music, film and dance. With 360 degree views of London it is definitely a venue every student should know about and visit!
Tiger Tiger – Tiger Tiger offers the finest clubbing experience for students in London. It will exceed all your expectations! The venue has something for every party-goer. With trendy music, a vibrant atmosphere and comfortable surroundings, Tiger Tiger is an excellent choice for those students who enjoy a meal and partying afterwards.
Infernos – The infamous hub for Clapham debauchery. With drinks deals on a Friday and Saturday, Infernos is home to cheesy music that you can have a laugh and sing along to!
EAST
GlowyMcGlow at BallieBallerson – Spread across two floors, GlowyMcGlow is an adult play pen like no other. The main attraction is a ball pit containing 250,000 clear balls on top of an LED dancefloor and their delicious cocktails are inspired by planets.
Book Club Shoreditch – Spread over two floors, the Book Club offers food, club nights, life-drawing classes, ping-pong tournaments, live bands, talks and other forms of entertainment. An attractive venue with lots to offer!
Floripa – An authentic Brazilian hideaway, Floripa will bring you to the sunshine of Rio de Janiero. The carnival atmosphere, tropical cocktails, Brazilian cuisine and live DJ's make this place a top student hangout in London.
WEST
The Roxy – Go early for relaxing drinks and later for a bit of a dance. The Roxy is in the heart of the West End with a cocktail and lounge bar setting with New York style exposed brickwork, a beautiful back-drop bar and plenty of seating.
Eclipse South Kensington – With famous cocktails, Pan-Asian food and an impressive wine list, Eclipse on Old Brompton Road is a leading bar in one of London's most stylish areas.
Embargo Republica – Enter into a Cuban wonderland in this stunning venue. With a cigar room, a rooftop terrace and vintage, lively furnishings, drink and dance in your very own tropical escape.
For more information on any of the above and assistance with booking, please call our Managing Director, Katie Shapley, or The Organisers team today on +44 (0) 20 7078 7554 or email us at team@theorganisers.com to find out how we can help.